To provide the transparent inventory and Prevent Ad Fraud, IAB Tech lab rollout the ads.txt, Ads.txt is a text file which uploaded by the publisher/Site owner at root level which specifies all authenticated partner.Ads.txt and Ads.cert are advanced versions of prevention of ad fraud. You can read more about ads.txt and it's implementation in my another article. Read More
What is ads.txt ? It's Working
It is an IAB-approved text file that aims to prevent unauthorized inventory sales. ads.txt helps prevent bad actors from tricking buyers into purchasing fake impressions. Available on desktop and mobile web, it lets publishers declare which companies they authorize to sell their digital inventory and, in turn, work towards improving transparency.
What is ads.cert ? It's Working
ads.txt is not bulletproof against ad fraud. Human errors like misspelling supply-side platform names in ads.txt files have wrongly penalized exchanges from having their inventory being picked up. Plus, most ads.txt files don't specify the type of inventory — display, video or native — a vendor is allowed to sell. That means display inventory can still be repackaged as video, for example, to boost CPMs.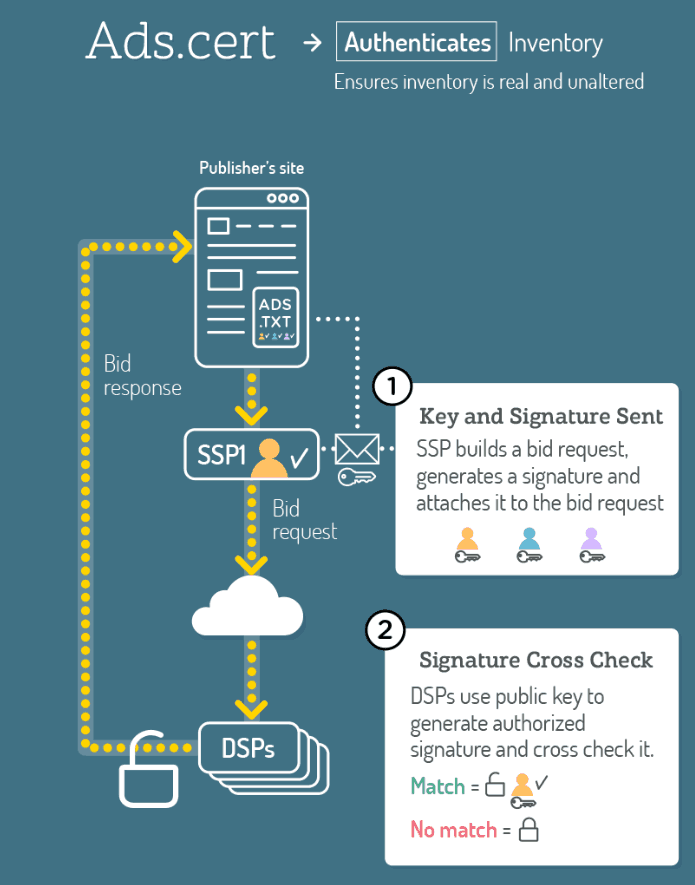 Key and Signature sent: SSP builds a bid request, generates a signature and attaches it to the bid request.
Signature Cross Check: DSPs use public key to generate authorized signature and cross check it.
Partner is authorized to sell.
Inventory is authentic and unmodified.
All the players in ad tech are now well aware that the resulting lack of transparency surrounding ad and ad inventory quality is taking its toll on the industry. The creation of ads.txt and ads.cert prove that everyone has finally come together to take a stand against fraud.
Reference
https://digiday.com/media/what-is-ads-cert/
https://smartadserver.com/ad-operations/fighting-fraud-standards-explaining-adstxt-adscert/