While traditional banner ads have a static creative from start to finish, native is flexible and can provide a beautiful, relevant, effective ad in any situation and on any device.
How to create native ads
There are three types of Native Ads you can created inside Google Ad Manager 
AdX auction and direct sold
Quickly build and style your native ad with our easy-to-use editor.
The Guided design editor has simple UI controls that walk you through building and styling a native ad without the need to write code. Optionally, you can edit the CSS to customize your ad to a great degree. You can select fluid or commonly used fixed sizes. The resulting native creatives can serve on web or mobile app.
Fully manual control over the content and styling of your native ad using HTML & CSS.
Direct sold only
The App code option allows you to style the native ad directly in Android or iOS app code. This is a good choice for sophisticated app developers who want full control of their rendering in apps. The resulting native creatives can serve as direct-sold ads; contact your account manager to join the beta for AdX auction eligibility.
AdX auction and direct sold
Global Adx Demand Connected To Native Ads
Click to the Guided design editor
Sign in to Google Ad Manager.
Click Delivery and then Native
Click Create native ad.
Click Select in the "Guided design editor" box.
Under "Choose your path," select one of the following:
Customizable for in-feed (default): (AdX auction and direct sold) Use this option for in-feed native ads. You use UI controls to build and style a native ad that closely matches the look and feel of your content and blends in with your feed. If you select this option, follow the instructions below.
Google-designed for in-article (Beta): (AdX auction only) Use this option for ads that won't appear inside feeds; these ads work best in an article or outside the main content area. Google chooses the ad design, you can update the font and color, and you'll be serving native ads quickly.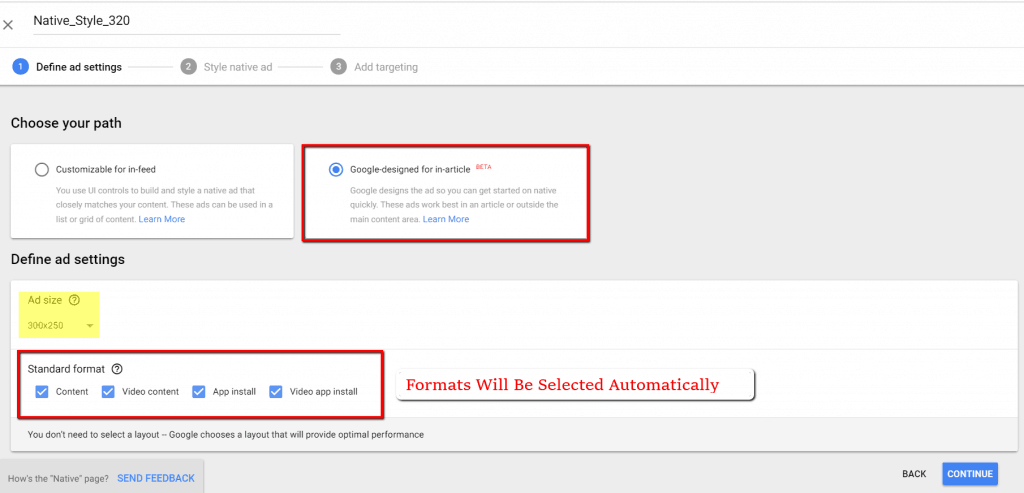 Global ADx Display Line Item Changes
Add Native As Ad size in the Line item
Select the automatically created creative option
or Add the Native Format inside exisiting Creative Sizes.
Reference:
Native Ads Google Ad Manager (DFP)