Recently I have come across an issue where advertiser to wants to show the ads during specific time of the day.
In DFP the option of Day and time option is avaiable which help schedule the ad during specific time.
However in some cases you will face some error which specifies as below
End time is earlier than start time.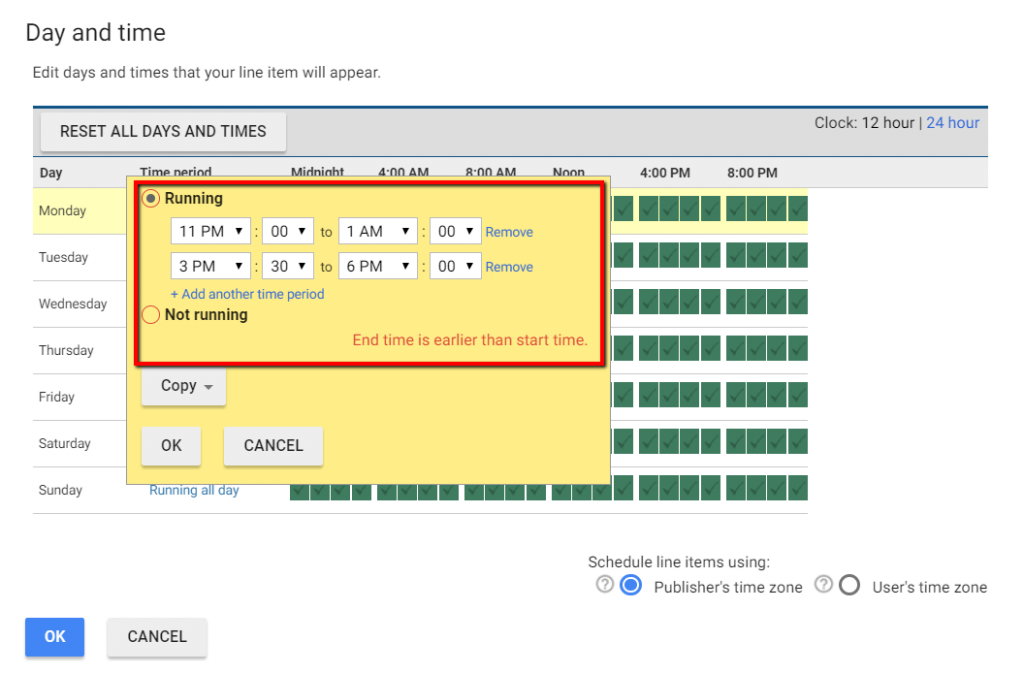 Suppose You need to schedule the campaign from 11pm to 1am and 3.30 PM to 6PM
What you need to do in this situation is schedule your campaign for 11PM-12AM on one day and continue from 12AM-1AM the next.
Also Additional timing will be from 3.30PM to 6PM.
For example,
Monday:  11pm-12am
Tuesday:  12am-1am
Tuesday:  3.30pm – 6pm
Wednesday:  11pm-12am
Thursday:  12am-1am
Thursday:3.30pm – 6pm
Thursday:  11pm-12am
Friday:  12am-1am
Friday:3.30pm – 6pm
Friday:  11pm-12am
Saturday:  12am-1am
Saturday: 3.30pm – 6pm
Saturday:  11pm-12am
Sunday:12am-1am
Sunday: 3.30pm-6pm
Sunday: 11pm-12am
Monday:12am-1am
To do this, click into the Ad Scheduling module and click on "Running all day" in the Time Period column.
Set your first time slot and click "+Add another time period" to create another one on the same day.