What is Ads.txt ?
It's just file that needs to be hosted on the publisher Sites/App, Which will let the buyer know that inventory is coming from the Direct publisher or Reseller and Who is authorized to sell the inventory of the publisher.
Video Reference SmartAdserver
Create an ads.txt File
Publishers put their inventory upon an ad exchange, letting hundreds of parties bid for that impression. If an SSP wins the impression, it usually doesn't serve ads directly by itself — it optimizes yield by letting hundreds of ad networks, other SSPs and DSPs bid on this impression. Then an ad network could put together a site list and includes all sites through that SSP, and then passes it off as its own site list, saying that it represents those sites. This ad network might resell the impression to another ad network and on and on until someone finally serves an advertiser into the impression, he explained.
http://go.whiteops.com/rs/179-SQE-823/images/WO_Methbot_Operation_WP.pdf
The recent "Methbot" scheme — which spoofed more than 6,000 premium publishers in the U.S. and generate as much as $5 million in fraudulent revenue per day — was the first public display of this risk. The way it works is that a buyer may see the URL for reputablewebsite.com (be it CNN or Huffington Post or any number of sites out there) but, in reality, is buying from a completely unrelated site, disreputablewebsite.com
A group of hackers behind the attack have hit 6,000 publications, including blue-chips like Fortune, The Economist and ESPN and even Facebook, according to the WhiteOps report, which did not release names of the advertisers that were affected.
What is ads txt?
It is an IAB-approved text file that aims to prevent unauthorized inventory sales.
How does it work?
Publishers drop a text file on their web servers that lists all of the companies that are authorized to sell the publishers' inventory. Similarly, programmatic platforms also integrate ads.txt files to confirm which publishers' inventory they are authorized to sell. This allows buyers to check the validity of the inventory they purchase.
How can buyers use ads.txt to check who is authorized to sell?
If an exchange and the pubs it represents each adopt ads.txt, bidders can check their tags for the presence of an ads.txt file to verify that the exchange and publisher have a legitimate connection to each other.
Are there any other ways to check which sellers are authorized using ads.txt?
Yes. Let's say a buyer bought HuffPost inventory but was skeptical of the exchange the inventory came from. If HuffPost used ads.txt, the buyer could head to huffpost.com/ads.txt to see if the exchange is listed as an authorized seller of HuffPost inventory, said Steve Sullivan, vp of partner success at Index Exchange.
The IAB Tech Lab released a crawler that can rapidly pull ads.txt files from publishers' websites. For buyers looking to check the ads.txt files for multiple publishers, the crawler helps them accomplish this quicker, said Alanna Gombert, gm of the IAB Tech Lab.
Why does this matter?
Unauthorized reselling is a major scourge in programmatic advertising, and unless buyers contacted publishers directly, they've had no way to know which SSPs are authorized to sell a particular publisher's inventory, Sullivan said. Creating a depository of authorized sellers should help buyers determine which programmatic firms have legitimate access to the inventory they seek.
Are there any drawbacks?
It depends on who you ask. For SSPs that thrive on undisclosed reselling, this initiative could cut into their business if it alerts the buy side to their shady practices.
"Theoretically, what this should do is, if we receive inventory that isn't labeled as valid, we will kill that request," said Rubicon Project CTO Tom Kershaw.
What about drawbacks for companies that aren't shady?
Publishers and exchanges, which are usually already stretching their developer resources thin, will have to allocate a web developer to integrate these text files and monitor them whenever pubs alter their lists of authorized sellers.
"But it is a small amount of work," said Business Insider CRO Pete Spande, who likened ads.txt files to credit card chips that reduce, but don't eliminate, fraud. "Unauthorized reselling can be really damaging to publishers' brands, so we need to do our part."
This sounds nice, but will it actually matter?
That depends. The success of ads.txt depends on network effects because it will only be a reliable quick check for buyers should publishers and exchanges adopt it en masse. The program is in its public comment stage until June 19 and its integrations into exchanges are still being ironed out, so it's too early to tell how popular the tool will become within the ad industry.
"I think [adopting ads.txt] is the right thing to do because we want to know whether we should be buying from the people that we are buying from," said David Smith, CEO and founder of Mediasmith. "But the key will be the IAB getting publishers to sign on."
ads.txt format
google.com, pub-XXXXXXXX4545714, DIRECT, f08c47fec0942fa0
adtag.com, 240, DIRECT
google.com, pub-XXXXXXXXXXX, RESELLER
ads.txt adsense
If you are seeing this kind of message in your Adsense UI then its time for you to update or add ads.txt to your root domain.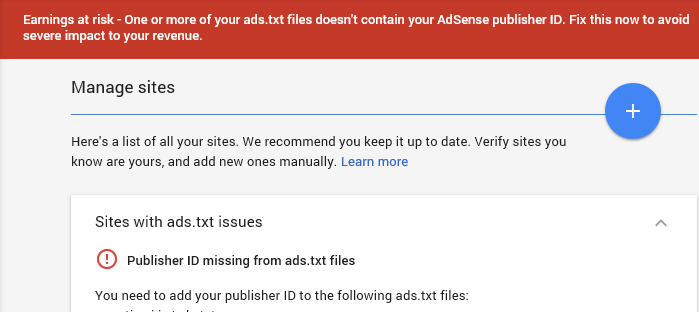 Once you are ready to implement, you will see below code which needs to be added to the ads.txt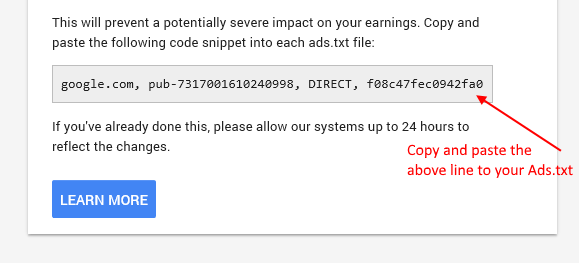 ads txt example
https://techcrunch.com/ads.txt
http://adage.com/ads.txt
https://adtagmacros.com/ads.txt
Ads txt Generator
Appnexus
https://wiki.appnexus.com/display/industry/AppNexus+Support+for+Ads.txt
Vidmatic
Verta:
https://adstxt.vertamedia.com/
OpenX
https://docs.openx.com/Content/demandpartners/quality-ads-txt-demand.html
Cedato
http://cedato.com/ads-txt-generator/
Smart+
http://demo.smartadserver.com/shared/smart/spain/adstxt/
Reference:
https://www.iab.com/?s=ads.txt
https://adexchanger.com/the-sell-sider/ads-txt-web-1-0-solution-web-3-0-problem/
https://support.google.com/dfp_sb/answer/7441288
https://iabtechlab.com/blog/industry-aligns-to-adopt-ads-txt-specification/
https://iabtechlab.com/ads-txt/
https://adstxt.adnxs.com/
EXAMPLES
As defined above there are three required fields. The optional certification authority ID field is included in some of the examples.
SINGLE DIRECT Ads.txt Entry 
The first example is a website with only one authorized system that is directly
controlled/operated by the website owner.
http://example.com/ads.txt
greenadexchange.com, XF7342, DIRECT, 5jyxf8k54
SINGLE RESELLER Ads.txt Entry 
The second example is a website with only one authorized system that is operated by a separate company doing resale of inventory. Their advertising system has not been independently certified, so no the optional fourth field is omitted.
http://example.com/ads.txt
redssp.com, 57013, RESELLER
MULTIPLE SSP Adx.txt Entry 
The third example is a website with multiple authorized systems and multiple resellers. Some of their authorized advertising systems are independently certified and have an ID issued.
http://example.com/ads.txt
# ads.txt file for example.com:
greenadexchange.com, 12345, DIRECT, d75815a79
silverssp.com, 9675, RESELLER, f496211
blueadexchange.com, XF436, DIRECT
orangeexchange.com, 45678, RESELLER
silverssp.com, ABE679, RESELLER
CONTACT RECORDS
The fourth example is a website with multiple authorized systems and multiple contact records.
http://example.com/ads.txt
# ads.txt file for example.com:
greenadexchange.com, 12345, DIRECT, d75815a79
blueadexchange.com, XF436, DIRECT
[email protected]
contact=http://example.com/contact-us
SUBDOMAIN REFERRAL
The fifth example is a website that refers the crawler to a subdomain with a different set of authorized systems. The crawler should take the subdomain as another URL to fetch data from and associate to the the subdomain and NOT the parent domain.
http://example.com/ads.txt
# ads.txt file for example.com:
greenadexchange.com, 12345, DIRECT, d75815a79
blueadexchange.com, XF436, DIRECT
subdomain=divisionone.example.com
http://divisionone.example.com/ads.txt
# ads.txt file for divisionone.example.com:
silverssp.com, 5569, DIRECT, f496211
orangeexchange.com, AB345, RESELLER
FILE WITHOUT AUTHORIZED ADVERTISING SYSTEMS
The sixth example is a website that does not publish any authorized advertising systems,reflecting this intent within a properly formatted ads.txt file.
http://example.com/ads.txt
placeholder.example.com, placeholder, DIRECT, placeholder
Tags:
ads.txt
ads.txt for adsense
ads.txt for dfp
DFP ad unit
verify ads.txt