Difference Between CTV vs. OTT and Type of OTT Streaming Video On Demand AVOD, SVOD, TVOD, and Hybrid
Our minds are changing as long as time is. Once upon a time, in terms of content entertainment, we had a significant option, which is a TV with cable networks. So, marketers began to find ways to show advertising in the traditional TV system. But the time has changed, as I said. Most of the people now prefer CTV/OTT instead of choosing a cable network.
Here is everything you need to know about connected TV and OTT & the difference between CTV and OTT. We will also briefly talk about connected TV(CTV)and OTT AVOD,SVOD,TVOD,vMVPD and more because people often get confused between OTT & CTV. So, let's jump on it!
What is OTT ?
Well, OTT means over-the-top. That's it.
Didn't understand? Let's crack the word. OTT (Over the top), The Terms OTT is simply referred to as the Devices that go "Over" the Cable Set Top Box to give users Access to TV Content. In OTT, content delivery is done via the Internet instead of traditional cable/Broadcast providers.
OTT Content: Content generated from OTT and viewed on any OTT Devices.
OTT Content Providers: Content Generator for OTT such as Hulu, Netflix, HBO Plus, Sling TV Amazon Prime, Pluto TV, NBC Universal.
OTT Devices: Any Device that is not Desktop, Laptop, Mobile, Tablet.
The Above definition of OTT is as per the IAB.  However, OTT content providers such as Hulu, Sling TV, Netflix, HBO, etc.. who are basically into Advertising, Delivery refer to Everything as OTT. 
And for some, OTT Definition is strictly followed based on the devices where content is viewed.
What Causes the Confusion Between CTV and OTT?
When Broadcast Industry Experts who are more familiar with streaming the content on Desktop and mobile Devices started calling the content streaming on other devices as OTT, that's where the confusion between CTV/OTT Started. The exact definition of OTT streaming video is a subject of ongoing debate in the industry today. Ask ten different people how they are defining OTT streaming video, and you very well may get ten different responses. For some, what matters most is the device through which the content is viewed.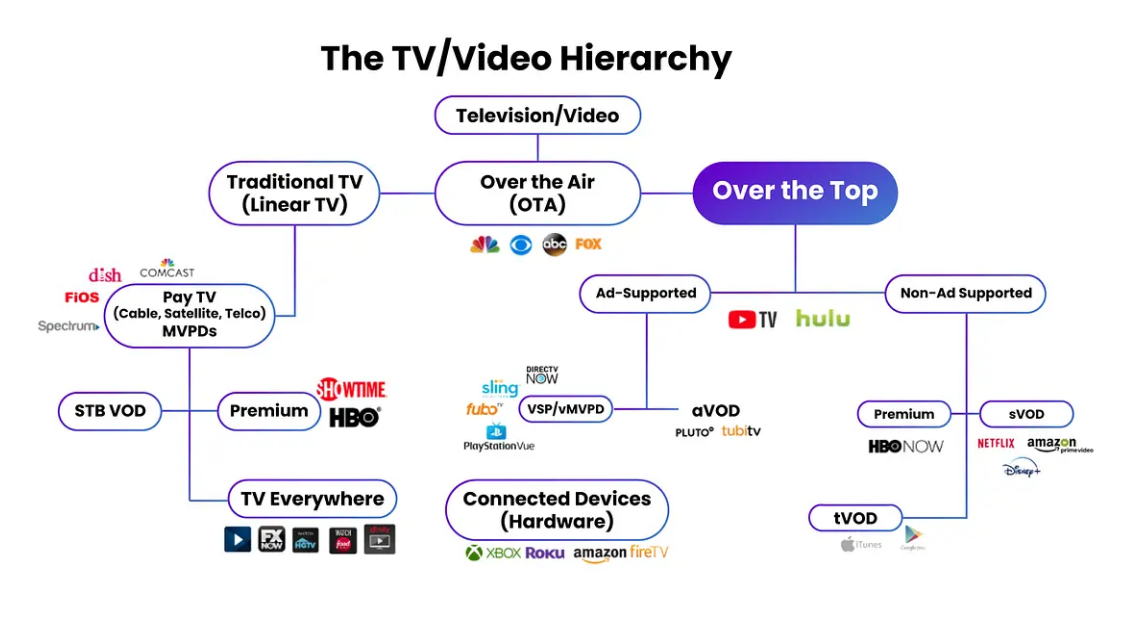 What is CTV (Connected TV)?
Connected TV (CTV): a television set that is connected to the internet via OTT devices or has built-in internet capabilities (i.e., a Smart Television).
Over time, TV's became internet-equipped, at first using game consoles and streaming set-top boxes like Roku, and then with new TVs that could connect directly to the Internet. This internet connection for TVs opened a whole new world for viewing content on increasingly bigger screens.
While Internet-equipped, connected TVs still present different challenges than those common in desktop and mobile OTT distribution. For this reason, CTV initiatives focus on video that is internet-delivered and viewed on a (big screen) TV. This includes:
"Smart TVs" that stream video directly over the internet

Internet-connected devices like Roku, Chromecast, Fire stick, Apple TV and others that stream to a TV 

Game consoles such as Xbox, Playstation, Nintendo, and others that stream to a TV
Still, Confused between OTT and CTV(Connected TV)?
Now, we have to understand. What is Connected to TV? OTT could be supported in many devices like smartphones, tablets, desktop, laptop, and smart tv. As the internet is mandatory for OTT, smart tv can run OTT because it supports internet built-in. 
Then what about the other televisions like general tv? Isn't OTT supported on general televisions? 
The answer is 'No' but 'Yes.' 
As general televisions do not support the internet, OTT cannot run there directly. It needs an additional device called Connected TV, which provides internet access to the general tv. And that's how people can use OTT in their general tv via connected tv devices. Amazon Fire TV Stick, Roku Premiere+, Apple TV are examples of CTV.
The term OTT doesn't cover all. For some, OTT is everything; they put everything into OTT. However, we need to understand each part of OTT in order to better attract the client and explain what the difference between each part of OTT is.
Terms like AVOD and SVOD are part of OTT, but you must know the Difference between AVOD and SVOD.
SVOD: Subscription Video On-Demand
Streaming Video Service, which provides useful content on-demand with some $$, These are mostly Non-Ad Supported. E.g., Netflix, Amazon Prime, Hulu
Variable Plan, charge monthly, quarterly, or annually and even offer free trials to your subscribers.

AVOD: Ad-Supported Video On Demand
Streaming video service which provides User OnDemand Content but with Ads. e.g., Crackle, Tubi, Vudu
Run pre-rolls, mid-rolls and post-rolls and much more on your videos across Website, Mobile Apps and TV Apps, as well as any other type of video ad units that are supported by the video ad server and monetize on Ad-Supported Model (AVOD)

TVOD - Transactional Video On-Demand
Transactional Video On-Demand Content for Only a Few days only, Basically the opposite of SVOD platforms, 
TVOD is where users get a select number of days to watch the title before they have to pay to rent it again.
TVOD services typically offer more recent releases.
TVOD platforms tend to deliver higher revenues per viewer by offering consumers timely access to the most recent releases and significant sporting events in real-time. Customers are offered attractive prices and promotions to entice repeat purchases.
TVOD is also at times classified as its other popular known names like EST or DTO and DTR –Download to Rent (DTR), Electronic Sell Through (EST) (also known as "Download to Own" or DTO)

vMVPDs(Multichannel Video Programming Distributor)
A virtual MVPD (vMVPD) is a service that provides multiple television channels through the internet without supplying its own data transport infrastructure (i.e., coaxial cable, fiber, or satellite technology). TvMVPDs such as Sling TV, AT&TV Now Also known as DirecTV Now, PlayStation Vue, Fubo, Philo, YouTube TV,

Hybrid Video On Demand
Another way of providing the streaming services is a hybrid approach—providing both a free, ad-supported service and a premium subscription offering. 
Multiple OTT big players are following this model; This is the reason you might see Hulu or some other OTT player into multiple Models mentioned above.
This creates a soft transition for converting an audience over to a subscription model. Providers can take this strategy a step further by offering tiered subscription models and gating certain content so that only users who are willing to pay a premium can access it.
In The United States, CBS All-Access and Hulu are good examples of a truncated hybrid model—offering a service based on a subscription PLUS advertising, or a higher-priced subscription package with no advertising. As the name suggests, hybrid models can be quite flexible.

Difference Between SVOD,AVOD,TVOD and vMPVD
OTT Streaming Services and Device Ecosystem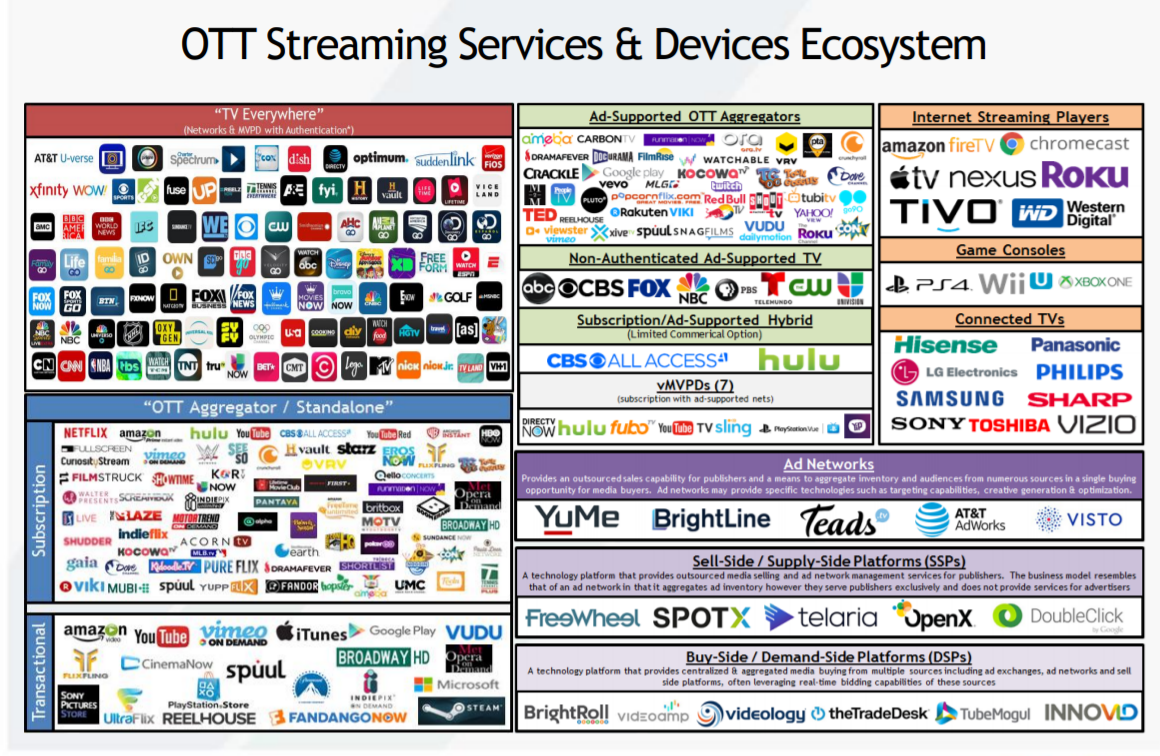 Tags:
AVOD
CTV
Hybrid Video On Demand
Streaming & OTT
SVOD
TVOD