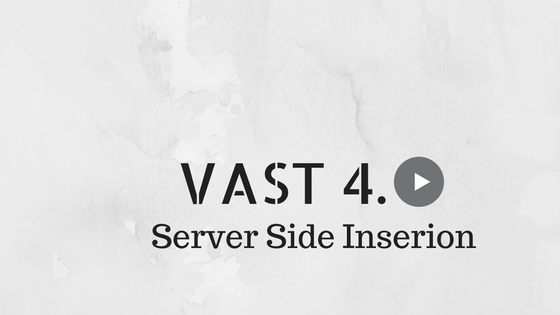 VAST: The Video Ad Serving Template is an XML response framework that enabled a consistent delivery format for ad across streaming video platforms.
Since It's first launch back in 2008. IAB tech lab have made several updates which not only increase overall functionality but also increase simplicity to understand. VAST 2.0 which support VPAID JS media file format enable advertiser to serve the video ads across devices without any dependency on Flash. The latest version of VAST which is released by IAB is VAST4.0 ,
Separate video file and interactive file:
Video file and interactive portion of ad will load from different source, which will reduce the complexity of ad loading and its interaction counting
• Server-side support:
Its counter mechanism created for Ad blocking, While client-side ad execution and tracking has been the recommended way to track ad impressions and other metrics, digital in-stream video ads are often served to devices (clients) that cannot execute and track ads using traditional display methods. VAST 4.0 supports the increasingly common "adstitching" method for stitching linear video ads into a video content stream and sending it to players with limited capabilities.
• Mezzanine file:
To support advertising across video platforms that include long-form content and high-resolution screens, VAST 4.0 features include support for the raw, high-quality mezzanine file. The mezzanine file is very large and cannot be used for ad display, but ad-stitching services and other ad vendor use it to generate files at appropriate quality levels for the environment in which they play.
• Ready-to-serve files:
Along with support for including the mezzanine file, VAST 4.0 provides guidance on providing three ready-to-serve video files, each at different quality levels, to ensure that a linear video ad can always play. The IAB Digital Video Ad Format Guidelines offers guidance on video file specifications for linear ads.
• Universal Ad ID:
While VAST has offered a creative identifier in the past, it has been used inconsistently. The new Universal Ad ID feature is used specifically for including a creative identifier that is maintained across systems. The existing adId attribute for creative can still be used to log creative IDs specific to the server.
• Ad Verification and Viewability Execution:
Verification vendors have been using VPAID for measurement verification instead of using it for ad interaction as VPAID was intended. VAST 4.0 offers a designated space for inserting ad verification APIs, enabling a more streamlined process for executing files strictly intended for ad verification. In addition, a secondary impression element, the element, has been added to allow publishers the option to track viewability on their inventory.
• Support for categories:
Ad categories help video publishers separate competing ad creative and improve brand safety. VAST 4.0 ad categories support these efforts.
• Conditional ad declaration:
In programmatic environments, a VPAID unit is sometimes used to decide whether or not to place an ad. If this "conditional ad" never results in an ad to display, the publisher may have to forfeit any revenue from the resulting lost inventory. A declaration in VAST for a conditional ad helps publishers prevent and reclaim any potentially lost inventory revenue in programmatic ad delivery. • New error codes: Along with support for the mezzanine file and other new features, added error codes provide additional troubleshooting support.
• Standardized timestamp:
Trackers used in VAST often include timestamp macros, but its use has not been consistent. In VAST 4.0, the [TIMESTAMP] macro and the format for time has been standardized to enable more consistent time-sensitive tracking