What is safe Frame ?
SafeFrame's open line of communication between webpage code and the ad content has several key benefits, including:
Support for Viewability and other Industry Initiatives
While SafeFrame 1.0 is a leap forward in digital technology, its benefits will not be fully realized until key publishers implement it on their pages and ad developers have made the necessary modifications to support serving their ads to SafeFrames. As an open-source technology, SafeFrame is encouraging quick adoption, but ad developers and technology vendors should remain patient as publishers transition to SafeFrame 1.0. Download SafeFrame 1.0 Specs released By IAB
What Is SafeFrame Container ?
SafeFrame specifies a framework that creates a container around HTML content served to a webpage and establishes an API to enable communication between the webpage and the served content.Container where actual creative will render is basically the safeframe Container.
With SafeFrame specified objects and functions are used to manipulate and interact with created SafeFrame containers, allowing for rich-interactions. The primary use for SafeFrames is to encapsulate external HTML content with SCRIPT tags or other markup while protecting the host page from content that could otherwise inadvertently or purposefully affect the host site in unexpected ways.
As a solution for content served into iframes, SafeFrame offers visibility and functionality to served
content where it was once impossible in a standard iframe.
Below site provides tools and examples to aid you in adopting SafeFrame for secure advertisement delivery.
Use the Creative Test Tool to test your ads
Example of safeframe
http://safeframes.net/examples/IAB_RisingStars/index.html
————————————————————————————————————————–
 
————————————————————————————————————————–
————————————————————————————————————————–
Few Important Point When Considering SafeFrame in DFP.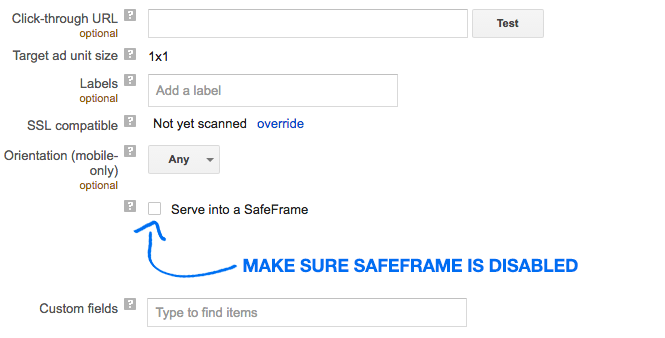 When You upload the third party tags in DFP/DCM, At creative level you need to unselect the safeframe option if you don't want to utilize it, However If you know that Ad slot that you are using is safe frame compliant then you can select it.
Below are the few  additional points on SafeFrame
Protecting the user data:
Normal ads can access the user information however safeframe can't
Advertiser can't write a cookie nor read the cookie with safe frame
Rendering the rich media creative effectively
Maintaining with iframe buster can cause lots of problem like page break .
Support for Inview:
Safe frame can be used only with these types of ads from DFP
– Third party
– Custom creative
– User Defined Template
Important Note:
All backfills ads (Adsense/Adx)are always served in a cross domain iframe which is not a safeframe
Additional Resources For SafeFrame